Whether you spend your Halloween at a party, at work, or even trick or treating with your kids, you are bound to run into one or more of these people … You may even be one!
By Molly Fogle and Hope Snapp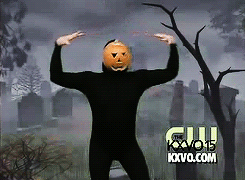 The Girl Who Wears a Cat Costume … EVERY Year
If you are passing out candy, going to a party or hanging out at the bar, you can always find her: The girl who finds comfort in her whiskers and tail. 
The DIY-er
From decorations to cookies, there is always somebody who spends hours preparing homemade Halloween decor and costumes.
The One Who is Way too Old to be Trick-or-Treating
When passing out candy, there is always that one person that feels like they should be passing YOU the candy.
The House that Hands Out Coupons
Skip this house. That's it.
The Homebody
Whether it is for religious purposes, or for a night of enjoying Hocus Pocus… there is always that family that turns their porch light off.
The Power Couple
Peanut Butter & Jelly, Mario & Luigi, Ketchup & Mustard… OH MY! There is always that happy couple who just insists on having a matching theme.
The Guy that Blacks Out Early
We've all been there. And if you haven't, you're in for a treat (or trick).
The Pun Master
This is the go-to for all the high school teachers who are just trying TOO hard to get their students to laugh.
The Workaholic
These people are the Grinches of Halloween. They cannot celebrate so they must envy. 
The Person that Dresses Up their Pet
When done correctly, these can be the fan-favorites of a party.
The Dad that Turns His Yard into a Haunted House
There is always that one creep on the street that loves scaring kids. Dogs hate this guy.
The Old Couple that Passes Out Full Sized Candy Bars
There is always that one old couple who buys out the entire candy section at Target just for Halloween.
The Guy in the "This is my Costume" Shirt
This one always makes you think: "Who invited this guy?"